Plan your bicycle route easily
(for smartphones)
no software installation, no wires needed
send the route as a link to your mobile phone
free of charge for you and your friends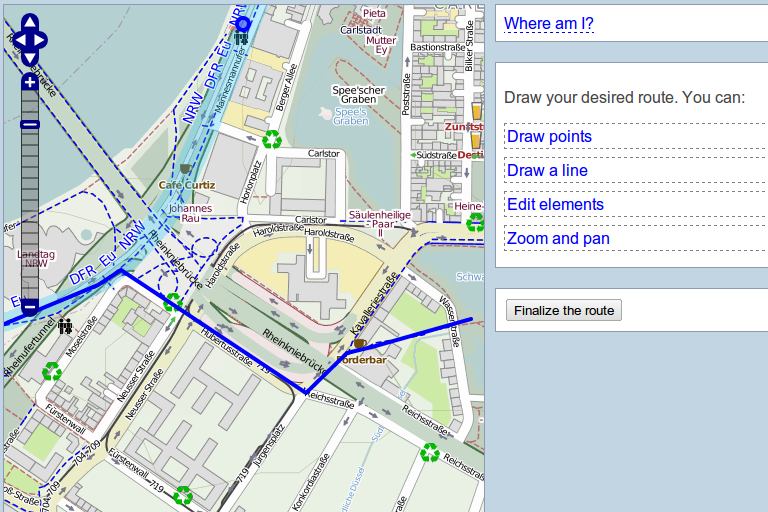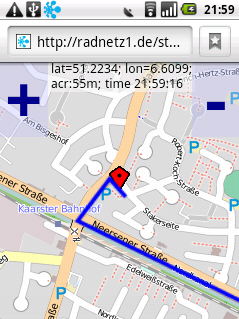 Just put together your desired route by clicking the nodes, add a comment an you are ready to send the route as a link to a mobile phone. During the ride no operation of the mobile phone is needed - the map is always automatically centered on your current location (with GPS).
Requirements
a modern smartphone with Apple or Google Android operating system, e.g. Apple iPhone, Samsung Galaxy, Motorola Droid, or HTC Wildfire (there are more than 100 compatible types)

an internet flatrate for the mobile phone

a mobile mount for your bicycle
Maps
We use maps by openstreetmap.org. The data is prepared by enthusiasts all over the world, similar to wikipedia. In contrast to commercial map data, which is typically optimized for cars, on openstreetmap you can also see lot of ways, paths and points of interest, which are only accessible by foot or by bicycle.
Just an example. You would never expect this nice path through a park, just 100 yards to the north of this busy street.
| Without radnetz1.de | With radnetz1.de |
| --- | --- |
| | |
Any questions?
You can tell your experience or ask a question (in English or in German) via Email to info@radnetz1.de.
Try out now - no registration required!
Hint: you can also use it to prepare a map with driving directions for a car and just email the link.